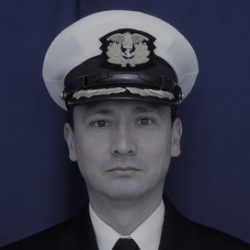 Executive Deputy Secretary of the Colombian Oceans Commission
Lieutenant Commander Rafael Hurtado is a Colombian navy officer that has served for twenty years in different positions and stages of his career. As a navy officer have significant experience onboard ships, the development of naval operations and coastguard operations. Since 2016 Lieutenant Commander Rafael Hurtado has been working in the Colombian Ocean Commission (COC) as Subsecretary. The COC is the governmental body in charge of developing the public national policy oriented to the sustainable development of marine and coastal spaces. In the last years, the officer has actively contributed to the development of strategic Colombian initiatives as the Chapter of Oceans included in the National Development Plan (PND-2018-2022) and the National Policy of Oceans and Coastal Spaces (PNOEC 2018).
Lieutenant Commander Hurtado also has experience in the development of academic and non-academic publications focused on increasing the knowledge of the public about ocean affairs and have participated actively in the design and development of the National Plan of Scientific Marine Expeditions, the Colombian Antarctic Program (PAC) and other enterprises slanted towards the growth of scientific knowledge of marine ecosystems and raise the appropriation of public of ocean sciences.
During the last year, the Lieutenant Commander Hurtado has also worked as an advisor of the Colombian vice president in ocean affairs.
EDUCATION
Graduate:
Bachelor's degree in Nautical Sciences, Escuela Naval de Cadetes "Almirante Padilla", Cartagena, Colombia 2005
Bachelor's Degree in Management, Escuela Naval de Cadetes "Almirante Padilla", Cartagena, Colombia 2012
Postgraduate:
Master of Science in Maritime Affairs, World Maritime University, Malmo, Sweden 2015.
Postgraduate Diploma in Policy and Maritime Strategy, Escuela Naval de Cadetes "Almirante Padilla", Cartagena, Colombia 2016.