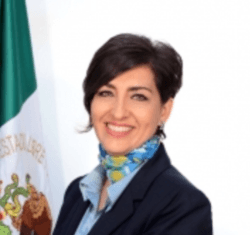 Deputy Chamber Marine Commission
Mónica Almeida López, was born in Guadalajara, Jalisco, Mexico, on April 3, 1970. She has a PhD in Analysis, Planning and Representation of the Territory with Orientation in Cooperation and Social Welfare from the University of Oviedo, Spain.

She is a teacher in technologies for learning and has a degree in Psychology, both programs from the University of Guadalajara.

She currently serves as Federal Deputy of the LXIV Legislature, President of the Navy Commission, Secretary of the Housing Commission and a Member of the Energy Commission.

Its legislative agenda primarily promotes energy democracy, regional development and the vital minimum.

Mónica Almeida López, nació en Guadalajara, Jalisco, México, el 03 de abril de 1970. Tiene el grado de Doctora en Análisis, Ordenación y Representación del Territorio con Orientación en Cooperación y Bienestar Social por la Universidad de Oviedo, España.
Es maestra en tecnologías para el aprendizaje y licenciada en Psicología, ambos programas por la Universidad de Guadalajara,
Actualmente se desempeña comoDiputada Federal de la LXIV Legislatura, Presidente de la Comisión de Marina, Secretario de la Comisión de Vivienda e Integrante de la Comisión de Energía.
Del 2015 al 2018 comoDiputada Local de la LXI Legislatura del H. Congreso del Estado fue: Coordinadora de la Fracción Parlamentaria del PRD,Presidente de la Junta de Coordinación Política, del 01 de marzo al 30 junio de 2017, Presidente de la Comisión de Justicia y de desarrollo regional. Presidente Interino de la Coordinadora Nacional de Legisladores Locales del Partido de la Revolución Democrática y Presidente Interina de la Conferencia Permanente de Congresos Locales (COPECOL).
Vocal en las Comisiones Legislativas de Puntos Constitucionales, Administración, Vigilancia, Responsabilidades, Hacienda y Presupuestos, Equidad de Género, Cultura, Educación, Innovación, Ciencia y Tecnología, Asuntos Electorales, Asuntos Metropolitanos, Participación Ciudadana, Transparencia y Acceso a la Información Pública, Derechos Humanos y las especiales del Sistema Estatal Anticorrupción y de la Gestión Integral del Agua en el Estado.
Diputada Federal Suplente de la LVI Legislatura del H. Congreso de la Unión, de 1994-1997.
En su vida académica como Profesora Titular de la Red Universitaria del Estado de Jalisco de la Universidad de Guadalajara, destaca que fungió como:
Rectora del Centro Universitario de los Valles del año 2010 al 2013
Coordinadora General Académica del año 2013 al 2014 y Coordinadora de Relaciones Institucionales de Rectoría General del 2014 al 2015.
Su agenda legislativa promueve principalmente la democracia energética, el desarrollo regional y el mínimo vital.