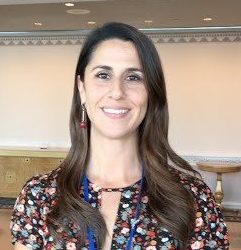 Consultant for the High Seas Alliance
Dr. Rodríguez Chaves has more than ten years of experience working with environmental nongovernmental organizations and as an independent consultant on diverse environmental topics, such as renewable energy, marine conservation and management schemes, high seas governance, among other subjects.
She has a Law Degree from the University of Costa Rica, and a Master's Degree in Environmental Law from the same University. She has a PhD degree from the School of Law of the National University of Ireland, Galway (NUIG), and lectured a Law of the Sea course in the same institution. Dr. Rodríguez Chaves successfully accomplished the United Nations-Nippon Foundation of Japan Fellowship, and participated in the Comparative Environmental Law Program, University of Florida–University of Costa Rica. She worked at MarViva Foundation as legal adviser in the Policy Advocacy Department, and afterwards as the High Seas Program Coordinator. Currently, she is a consultant for the High Seas Alliance, and works closely with the Latin American countries participating in the United Nations negotiation process on the conservation and sustainable use of marine biodiversity in areas beyond national jurisdiction.
Her publications include "Marine Spatial Planning in Areas Beyond National Jurisdiction" (Wright, G., et. al., 2018), "Legal frameworks for mangrove governance, conservation and use: Assessment summary." (Slobodian, L. N., et. al., 2018); "Bridging the ocean, water and climate action goals under the 2030 Agenda on Sustainable Development"(Long, Rodriguez, 2018); "Anatomy of a new international instrument for marine biodiversity beyond national jurisdiction: First impressions of the preparatory process" (Long, Rodriguez Chaves, 2016).
Dra. Mariamalia Rodriguez Chaves | Consultora de High Seas Alliance.
La Dra. Rodríguez Chaves tiene más de diez años de experiencia trabajando con organizaciones ambientales no gubernamentales y como consultora independiente en diversos temas ambientales, tales como energías renovables, conservación marina y esquemas de manejo, gobernanza de alta mar, entre otros.
Es licenciada en Derecho de la Universidad de Costa Rica y tiene una maestría en Derecho Ambiental de la misma Universidad. Tiene un Doctorado de la Facultad de Derecho de la Universidad Nacional de Irlanda, Galway (NUIG), e impartió lecciones sobre Derecho del Mar en dicha institución. La Dra. Rodríguez Chaves realizó el Fellowship de Naciones Unidas y el Nippon Foundation, y participó en el Programa de Derecho Ambiental Comparado de la Universidad de Florida–Universidad de Costa Rica.
Trabajó en Fundación MarViva como asesora legal en el Departamento de Incidencia Política, y luego como Coordinadora del Programa de Alta Mar. Actualmente, es consultora del High Seas Alliance y trabaja con los países Latinoamericanos que participan en el proceso de negociación en Naciones Unidas sobre un nuevo Tratado para la conservación y el uso sostenible de la biodiversidad marina en áreas fuera de la jurisdicción nacional.
Sus publicaciones incluyen "Planificación espacial marina en áreas más allá de la jurisdicción nacional" (Wright, G., et. Al., 2018), "Marcos legales para la gestión, conservación y uso de los manglares: Resumen de una evaluación." (Slobodian, LN, et al., 2018); "Acercando los objetivos sobre océanos, agua y clima en el marco de la Agenda 2030 para el Desarrollo Sostenible" (Long, Rodriguez, 2018); "Anatomía de un nuevo instrumento internacional para la biodiversidad marina más allá de la jurisdicción nacional: Primeras impresiones del proceso preparatorio" (Long, Rodriguez Chaves, 2016).