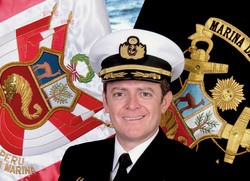 Captain – Peruvian Navy
Bachelor and Graduate in Maritime and Naval Sciences (BSc) from Naval Academy of Peru in 1996. Specialized in Coastguard and Captaincies (2001), and Hydrography and Navigation (2006). Graduated from the Command and General Staff Program at Naval War College (2008).
He has a Master of Engineering in Ports, Coasts and Harbours (MEng) from the Centre of Studies and Experimentation of Public Works (CEDEX), Spain – 2002; a Master in Maritime Strategy from the Naval War College of Peru in 2008; a Master of Sciences in Maritime Affairs, specialized in Maritime Safety and Environmental Administration (MSEA) from the WMU, Class 2010; and Graduated as Expert in International Maritime Law from Spanish Maritime Institute (IME) and Comillas University of Madrid in 2016.
He has served onboard as Navigation Officer, Executive Officer and Commanding Officer of several Navy Ships and in different positions of the General Directorate of Captaincies and Coastguards – National Maritime Authority. During 2013 and 2014, he served as Harbour Master of Puerto Maldonado, leading the fight against illegal mining and illegal activities in rivers of the Peruvian Amazon.
He has been Deputy Naval and Defence Attaché to the Peruvian Embassy in Singapore and Indonesia, and Liaison Officer of the Information Fusion Centre of Singapore Navy, during 2015 and 2016.
Fulfilling duties for the Maritime Administration, he is Port State Control Officer; Surveyor and Auditor of Flag State, International Instructor and IMSAS Auditor recognized by IMO, and International Trainer and Inspector of the Maritime Labour Convention 2006 recognized by ILO. Likewise, External Consultant of the IMO Integrated Technical Cooperation Program (ITCP).
Lecturer of different subjects on maritime and port matters in the Pre and Postgraduate Academies of the Navy and the National Merchant Marine Academy "Almirante Grau".
Currently pursuing a Master's Degree in Development, Security and National Defence at the Centre for Higher National Studies in Lima, Peru.