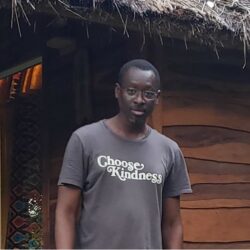 PhD Candidate and Research Assistant at the World Maritime University – Sasakawa Global Ocean Institute
---
Lamin Jawara is a PhD Candidate and Research Assistant at the World Maritime University – Sasakawa Global Institute at Malmo, Sweden, where he is currently working on his thesis entitled "Addressing Climate Change Emergency Governance in Global Shipping". He is resident in The Gambia and works as the General Manager of the Gambia Ferry Services, a subsidiary company of the Gambia Ports Authority.
Prior to his appointment as General Manager in 2020, Lamin had started his career at The Gambia Ports Authority as a Cadet Marine Engineer in 1997 and rose through the ranks to Director of Technical Services, Ferries Division. He had worked briefly at the New York City Ferry Services (NYC Ferry) as Engineering Projects Manager and as Fleet Maintenance Supervisor from 2017 to 2020. At NYC Ferry, he had managed remediation projects of several ferries in collaboration with New York City Economic Development Cooperation (NYCEDE).
Lamin holds a MSc degree in Marine Technology with specialization in Technical Operation of Marine Systems from the Norwegian University of Science and Technology (NTNU) where he had worked with Statoil on the development, testing and characterization of renewable fuels as part of his Master's thesis from 2010 to 2011. While studying, he worked as a Teaching Assistant at NTNU. He acquired his BSc in Marine Engineering from the Regional Maritime University in Ghana in 2005 with an award for Best Engineering Graduate. Prior to this degree, he had received a Diploma in Marine Engineering from the same University in 2001.
Lamin is a Chartered Engineer (UK) and a Chartered Marine Engineer certified by the Institute of Marine Engineering, Science and Technology (IMarEST). As a member of IMarEST he currently serves in various IMarEST Special Interest Groups including the Coastal Science & Engineering.