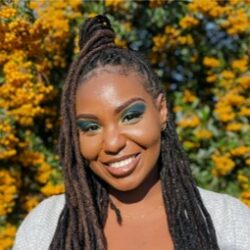 PhD Candidate and Research Assistant, WMU-Sasakawa Global Ocean Institute, WMU
---
Kristal Ambrose also known as 'Kristal Ocean' is an environmental scientist studying marine debris and plastic pollution in The Bahamas. After sailing across the Pacific Ocean in 2012 to study the Western Garbage Patch, Kristal was inspired to return home to The Bahamas to spark a plastic pollution revolution. Her career in the environmental field spans over a decade as she has been working diligently on plastic pollution research and education in her country.
She is the Founder and Director of Bahamas Plastic Movement (BPM), a non-profit organization geared towards raising awareness and developing solutions to plastic pollution. She has brought awareness of plastic pollution globally and was instrumental in The Bahamas' 2020 single use plastic ban. Kristal has been featured in the Sierra Club Magazine and Coastal Living Magazine and was named an Ocean Hero by musician Jack Johnson and she is also the recipient of the 2014 Environmental Youth Leader Award from The Government of The Bahamas. In 2020, she was named the Goldman Environment Prize Winner for Islands and Island Nations for her work with The Bahamas' single use plastic ban.
She is currently based in Malmö, Sweden at the World Maritime University as a PhD Candidate studying marine debris monitoring in the Wider Caribbean Region. In 2022, she published her first children's book, Kai and Gaia Discover the Gyre, about an ocean-loving young Bahamian girl named Kai (Ocean) who is inspired to bring an end to ocean plastic pollution after her best friend, a sea turtle named Gaia (Earth), becomes stuck at sea in a trash gyre.