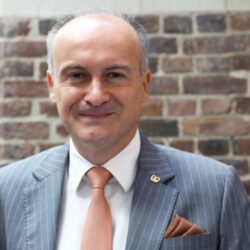 Professor of Maritime Law & Policy, World Maritime University
---
George Theocharidis is a Professor of Maritime Law & Policy at World Maritime University. He is a member of the Piraeus Law Bar & a qualified advocate before Areios Pagos (Supreme Court) with extensive litigation practice, as weel as a full member of the Hellenic Maritime Law Association since 2000. Prof. Theoccharidis is a upporting Member of the London Maritime Arbitrators Association (LMAA) since 2004 and is a consultant of the IMO E-Roaster.
His research interests concentrate on Carriage of Goods by Sea, Marine Insurance, Conflict of Laws, Methodology of Law, Ship Arrest and Maritime Policy. He is the author of the books "Tort Liability of the Sea Carrier under Hague-Visby Rules" (2000), "The Co-ownership on Vessel as legal form for the exercise of maritime commercial activity" (2008) and co-author of " Greek Maritime Law" (2015). He has also published several articles ("All About Freedom of Contract? Bunker Supply Arrangements Post-Res Cogitans in Global Context", "Mechanisms of Protection From Non-Contractual Modes of Recovery in Sea Carriage – A Comparison Between Common Law and Civil Law Systems", "Relationship between forum shopping and flag in satisfaction of security rights on a ship", "Jurisdiction for Provisional Relief under the Brussels Convention in Maritime Context" et al.) His published research work in international referred periodicals (J.Mar.L&C., R.H.D.I.) has received numerous citations from courts and legal theory (Heidelberg Report).
Co-author of the Training Package on "Maritime Transport Policy", instructed by IMO TCD. Member of the Working Group of the Legal Committee of IMO pertaining to "Measures to Prevent Unlawful Practices Associated with Fraudulent Registration and Fraudulent Registries of Ships". Joint Rapporteur of the International Working Group of the Comité Maritime International (CMI) on "Liability for the Wrongful Arrest of Ships".
Holder of LL.M. degree from the University of Cambridge (UK) and a Ph.D. from Aristotle University (Greece)