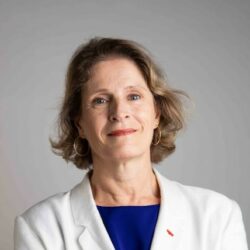 Ambassador and Permanent Representative of France to the International Maritime Organization
---
A career diplomat, Geneviève Jean-van Rossum has been appointed as the Ambassador and Permanent Representative of France to the International Maritime Organization in 2019.
Before that, she held bilateral positions in the Embassies of France in Haiti (1984-1986), Jordan (1996-1999) and Burundi (2013-2016), in Paris (Southern Africa desk, US desk), as well as multilateral positions abroad (Permanent Representation of France to the UN in Vienna 2004-2008) and in Paris (Permanent Delegation of France to the UNESCO 1990-1992). She has also held senior positions in relation with finance and human ressources at the French Ministry of Europe and Foreign Affairs in particular as Deputy Director of Programmes and Network at the Directorate General for Globalisation (2010 to 2013).
In the most recent period, she was Special Representative in charge of Bioethics and Corporate Social Responsibility (2016 to 2019).
She holds a bachelor degree in Foreign Languages from the University of Clermont-Ferrand and a master's degree in International relations from the Paris Institut d'Etudes Politiques.
She was made "chevalier de l'Ordre national du Mérite » et de « la Légion d'honneur».
Ms Jean-van Rossum is married and has four children.