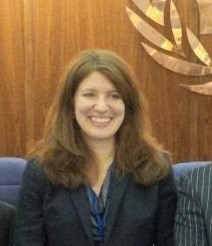 Chief of Freshwater and Marine Regulatory Branch
United States Environmental Protection Agency (EPA)
---
Betsy manages a diverse portfolio focused on protecting and restoring waters of the United States, including wetlands, and protecting ocean waters. More specifically, Betsy leads efforts associated with the Clean Water Act section 404 wetlands program and the Marine Protection, Research, and Sanctuaries Act, which implements U.S. policies and international obligations relating to ocean dumping.
Since 2009, Betsy has led and contributed to London Convention/London Protocol (LC/LP) activities for the United States, led national ocean dumping management efforts, and supported EPA's marine pollution control programs generally. Betsy has served as the Chair of the LC and LP Contracting Parties Meetings since 2020, having previously served as a vice-chair from 2014 to 2019. Betsy has also supported water sector emergency response and resiliency efforts.
Prior to joining EPA, she worked as an environmental scientist, focusing on contaminated sediments in the Great Lakes, urban wet weather pollution, and water quality issues. Betsy has conducted research in the United States as well as in the Brazilian Amazon and Great Barrier Reef regions. Betsy received a bachelor's degree from Denison University and a Master of Applied Science from James Cook University.